Name art is the perfect gift for weddings, new babies, graduations or any occasion! Of course you must have one for your own home as well! It isn't just limited to names. "Welcome", "Family", "Bath", "Sisters" ...if you can spell it I can create it!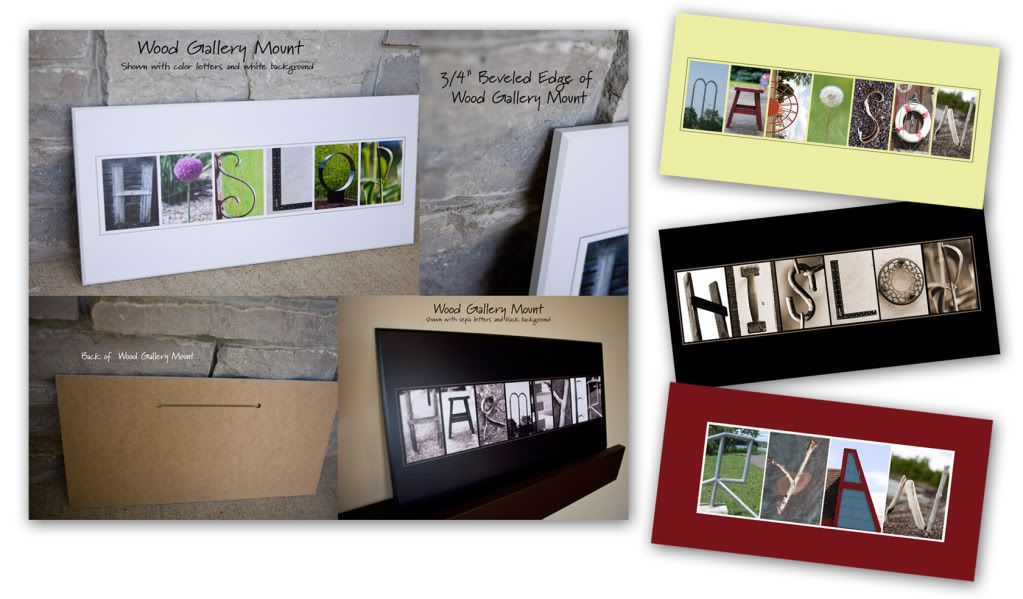 Name art can be ordered in 2 forms. The first is a photographic print. The print comes unframed and is 10x20 inches. You can find 10x20 frames at many local retailers (Michaels, Kohl's, Target. Ikea etc.)
You can also order name art as a wood gallery mount (pictured above left). Wood mounts are 3/4 inch deep, frameless, and mounted on beveled wood The best part is they come ready to hang with holes in the back. These are also 10x20 inches.
All name art comes is completely customizable. Options include letter color (black &white, sepia or color) and background or 'mat' color (black, white or just about anything in between). Please email me with order inquiries or additional questions!!

Pricing
Photographic Print Name Art:
$7 per letter, minimum $20
Wood Gallery Mount Name Art:
$12/letter, minimum $40